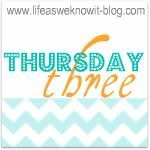 Linking up with Lisa from
Life as we know it
for the first time for Thursday Three (Ok. So I'm a day and a bit late. Don't pretend you're surprised).
1. I imagine that this is probably what most Australian's would start with, but it can't be helped. I love the beauty of this country. Or more than that, the diversity of beauty. The ochre of the centre that seemed to cover everything when I lived there for my teenage years. The turquoise of our reef, one of the world's great wonders. The verdant, deep mossy green of some of it's forests. The crimson of the Sturt Desert Pea against the yellow of the Golden Wattle; the purple Jacaranda so precious to me, and as I gaze up at them, I spy the explosion of colour - my favourite bird, the Rainbow Lorikeet.
2. Relaxed, easy paced lifestyle.
I love that we can have a laugh here. I love the sense of mateship, the Sunday afternoon barbecues, beach and backyard cricket being a right of passage for every Aussie kid, our ridiculous love of sports and the water, our ability to poke fun at ourselves.
What Australians's SHOULD think
about when they hear "Wallabies"
What Australians's REALLY think
about when they hear "Wallabies"
(All image sources can be found via my
Pinterest
).
3. I genuinely love that Australia is a melting pot of cultures. That with the exception of the Indigenous people, we're
all
from somewhere else. I can honestly say, I have no real desire to 'stop the boats'. I know we have to think about long term infrastructure, but I'd like to see us be
more
welcoming to immigrants, not less. I think communities are more beautiful for their diversity, not less.
What do you love about the country you live in?